A pair of top ten finishes for Jonathan in PreMoto3 debut at Albacete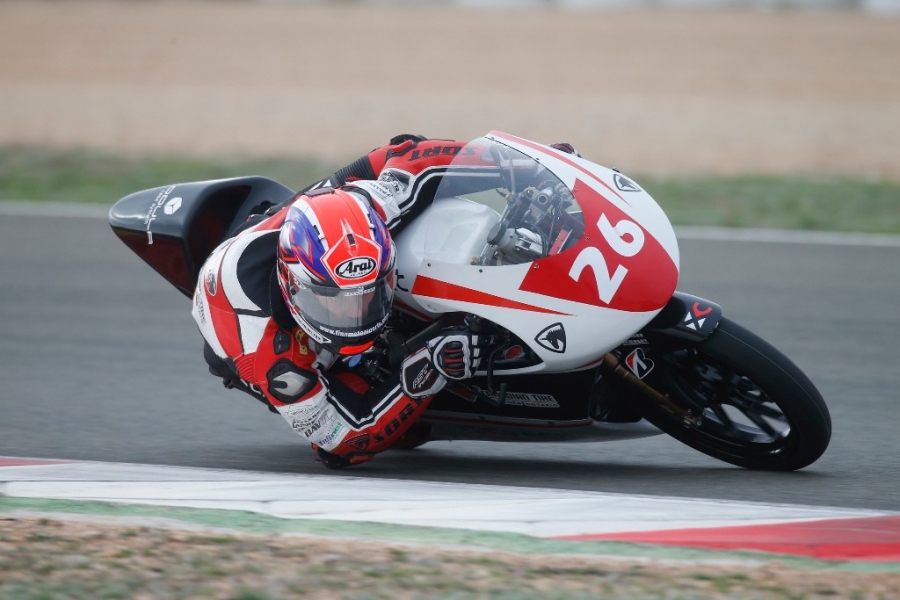 Canadian Jonathan Finn's PreMoto3 debut this past weekend at Circuit Albacete tested his resilience which resulted in earning a pair of top-ten finishes aboard his #26 Team XCtech Canadian Tire – Cobourg machine.
The weekend started great with warmer temperatures and sunshine, something that had been absent during almost all the pre-season testing. Finn and the team continued to dial-in his set up on his BeOn Automotive built machine. These changes resulted in him setting personal best times during Thursday and Friday's free practice sessions closing the gap between him and the front-runners.
Saturday was supposed to include two full qualifying sessions as well as the first of two PreMoto3 races for the weekend. Saturday's high probability of rain would not affect either qualifying sessions. Finn would finish the first session 8th fastest however in the second session, he would not be able to hold the 8th spot and would be pushed back to 13th out of a grid of 21 riders.
As Finn took the checkered flag to conclude the second qualifying session, he continued into the first corner where his powerplant would expire due what was determined to be caused by a defective connecting rod punching holes in the engine case spraying oil on Finn's rear tire. This triggered a low side causing the bike and rider to slide into the first turn gravel trap at just over 180kph according to the data retrieved from his bruised machine.
"I'm ok. That's definitely the fastest that I've ever come off of a bike" said Finn. "There weren't any obvious indications prior to the accident that warned me that this would happen. I am glad that my Arai Corsair X helmet did its job."
The XCtech team would have less than two hours to repair Finn's Pre-Moto3 machine and have it ready for Race 1 later that afternoon. Unfortunately, a heavy late afternoon downpour causing pooling water at various points around the circuit.
Track conditions were deemed unsafe and the first race of the weekend would be postponed until the following day. The rain delay would allow the XCtech team to investigate the engine failure further and fully prepare for Sunday's doubleheader.
Finn went out on the Bridgestone rain tires for the first time on a very damp track during Sunday morning's warm-up session and was able to set the 5th fastest time of the session.
"The Bridgestone rain tires were great. The track was really wet, yet I felt comfortable during the morning warm-up session. I knew that if I could keep that going for the two races I would be competitive in wet or dry conditions" said Finn.
The first race of the doubleheader day would see Finn's XCtech Canadian Tire – Cobourg machine really hook up off the line from 13th on the grid. Trying to stay clean and not get collected in the first corner Finn would end up heading into corner two in 9th place. Finn worked hard to gain additional track positions as the race went on. With four laps to go, he was in a two-bike battle for 6th position. With three laps to go Finn noticed that his engine temperature started to climb so he opted to limit the time in the draft. Trying to ensure cooler air could get to the radiator didn't seem to resolve the problem.
Prior to his high-speed off the day before, Finn recalled the same issue before the engine failure. Not wanting to tax the engine further or end up in the gravel again he decided 7th with points was the smart choice.
The second race of the day would see Finn start strong once again moving up to tenth place heading into the first corner. He would continue to earn valuable track positions, eventually finding himself in another two-way battle for 7th with Czechoslovakian rider Filip Reháček.
Finn would continue to hold off his challenger until the last lap. Reháček was finally able to get around the young Canadian. Finn knew if there was any chance of getting 7th place back he'd needed to make a charge in the last corner and hopefully draft him right to the finish line.
All thought the two-wheeled combatants enjoyed a good clean battle throughout the race Finn's attempt to draft the rider in front and slingshot past him before the line would fall short. Finn would miss out on another 7th place finish by a mere four one hundredths of a second to secure 8th place.
XCtech team boss Xavi Jimenez and the entire team were extremely happy with Jonathan's results this past weekend.
"I am very happy because Jonathan is a person who deserves to be able to achieve these results and little by little he gets closer to his dream because of his quality as a person" said XCtech team boss Xavi Jimenez.
The 2018 RFME CEV Pre-Moto3 Championship's next race is May 26 & 27 2018 at the 4.65km – 16 corner Circuit de Barcelona – Catalunya located in Montmélo just west of Barcelona.
Finn is thankful for the support from Canadian Tire – Cobourg, Arai Helmet Americas, Bickle Racing, Human 2.0, Impact Safe-T Armor, Marsquest, BigB Racing and VNM Sport.