A Pair of Top-10s at Jerez for Jonathan Finn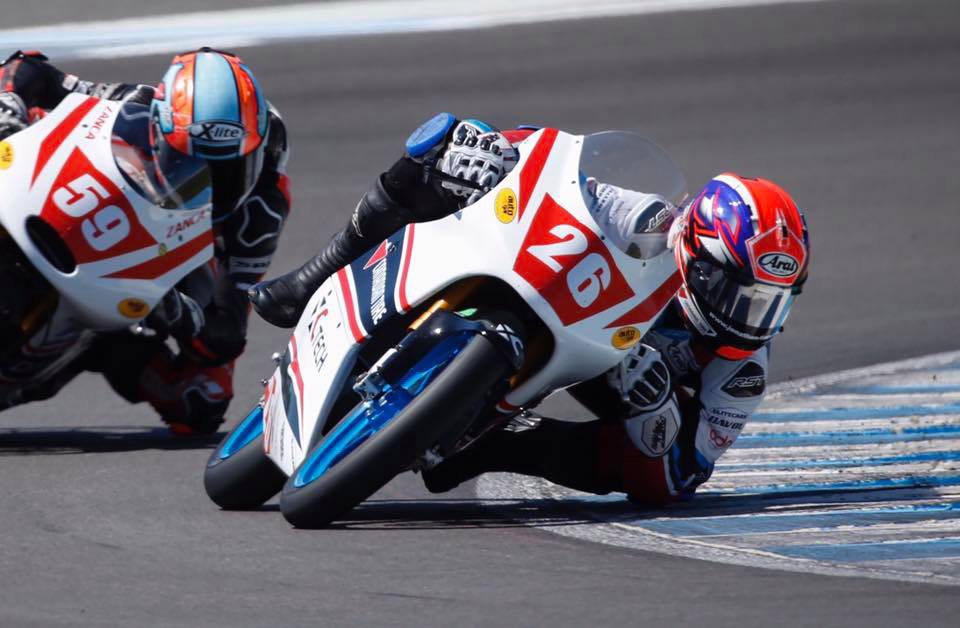 Canadian Jonathan Finn returned for his second season in the Spanish ESBK PreMoto3 Championship this past weekend at Circuito de Jerez earning him a pair of top-ten finishes aboard his #26 Canadian Tire – Cobourg, Team XCtech prepared machine.
After a few weekends of successful testing of the all-new 2019 BeOn Automotive built machine that Jonathan will be piloting this season, it was time to see what results he could achieve in full race trim.
Friday's morning testing-session goal was to push hard into the 1:53's. Jonathan improved his time by 1.5 seconds in the first session. In the final session of the day Finn was able to maintain consistent 1:55 lap times, roughly 2 seconds off the pace. He knew he'd have to fight for every 10th of a second to bring his lap times down during tomorrow qualifying.
Although Jonathan did not achieve his goal for qualifying, starting 10th on the grid for both Saturday's and Sunday's races was not going to dissuade him from making the most of the 2019 season opener.
After being pushed wide and caught out in turns one and two Jonathan had a lot of ground to make up and began to push towards the front in the first race of the weekend. Battling slower riders impeded his progress, allowing the lead group to create a gap. Running as low as 16th place, Finn's persistence and ability to battle back earned him an 8th place finish. As a result of his efforts it was determined that he had better pace then many of the riders in front of him.
Determined not to repeat the lackluster start he had in the previous day's race, Jonathan got off the line well and was able to work forward once again. Battling to get by riders that had slower pace proved to be a challenge during Sunday's race and would earn another top-ten finish, bringing his number 26 Canadian Tire – Cobourg machine home in 9th. Running similar sector times to the riders in 5-6 position, Finn felt the positive progress he and the team had made over the weekend.
"I'm happy with the start of the season. Of course, I always want to be better but this pre-season we had to make some changes to my training routine and that cost me time in being ready for the start of the 2019 season. My training is going well right now and I just have to work harder and arrive at each race prepared to do battle." said Jonathan.
XCtech Team Owner, Xavi Jimenez added; "We're happy with the progress made this weekend with Jonathan. He's demonstrated his ability in the past to run up front where we know he needs to be. The ESBK Pre-Moto3 is a challenging series filled with a lot of talent all wanting to win. It takes a lot of hard work and sacrifice to compete at this level. We are in full support of Jonathan to help him keep improving and are looking forward to seeing Jonathan progress for the next race at Barcelona-Catalunya."
Jonathan is thankful for the support from his partners; Canadian Tire – Cobourg, Arai Helmet Americas, Bickle Racing, RaceCanada.ca, Human 2.0, Impact Safe-T Armor, Marsquest, VNM Sport, Riders Management, Infinet Motorsports and Vroom Media Ltd.
He is also proud to support Laps 4 MD, a fundraising initiative to help make a difference in the lives of over 50,000 Canadians affected by neuromuscular disorders
Additional news about Jonathan's 2019 plans and sponsors will be announced in the coming weeks.