Solid Top 10 Finish for Jonathan Finn at Motorland – Aragon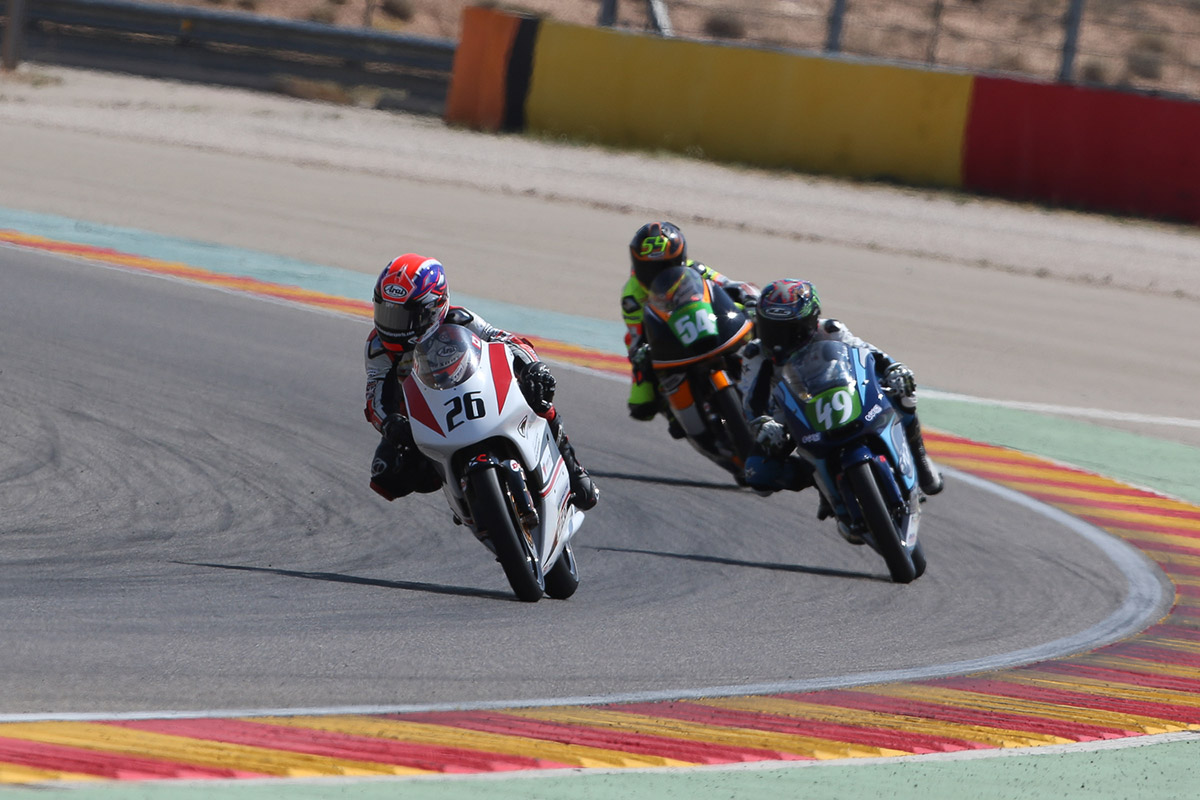 Motorland – Aragon was host to Round 6 in the Spanish RFME Campeonato de España de Velocidad (RFME CEV). Canadian teen Jonathan Finn and his XCTech team were eager to continue their progress and build on the momentum from the previous rounds.
With nothing but blue skys forecast for the entire weekend, the only concern was the 400 temperatures that Finn would experience for most of the weekend. "I've never raced in temperatures this high before so it will be interesting to see how I am able to cope throughout the weekend with this heat" said Finn.
Motorland is a difficult track, even riders that have raced here before can find it challenging but Finn was eager to tackle 5.3km, 17-corner circuit. "This is definitely the most challenging circuit I've been to in my career. Its been great to race circuits this year that MotoGP visits but this place is beyond anything I can put into words, it just WOW!"
With practice sessions Thursday and Friday, Finn was able to adapt well to the layout of this dynamic Motorland circuit. "Each practice I was able to find time and improve a little every session. With the long straights here I wanted to work on my drafting especially down the back straight, so getting in with a group of riders and letting them tow me around was important. My overall progress on the time sheets was not what I was hoping for but there was progress and know I could find more time," said Finn.
Saturday's qualifying practice sessions would be bittersweet for Finn as he showed good improvement in the morning QP1 session, but the QP2 session later in the day did not produce the results he was hoping for. "About half way through QP2 there was a red flag so it took away my rhythm. The session was going well, I was running in a large group which was good for me to chase these fast guys around," said Finn.
Qualifying middle of the 10th row on the grid, Finn needed a good drive at the start and begin moving forward. "I was able to get a solid launch off the line and immediately made up a few positions into turn 1. I ended up being pushed wide on the exit which messed up my rhythm and I missed a shift so that mistake cost me a few spots." Finn would re-group and steadily make his way forward, gaining ground throughout the race finishing with a solid 10th position in the 85GP class. "It was good to score another top ten finish here in Spain, but I really need to push harder to get the results that I want."
The RFME CEV series will now take a two month summer break and will resume at Circuito d'Albacete south west of Valencia which will host Round 7 October 1, 2017. During the break, Jonathan Finn will be returning home to Canada to train and take part in some motorsports events. "My biggest challenge right now is training. The other riders that I race against all practice and train 3 hours a day at least 3 times a week. They have coaches and facilities available to them. They practice riding the way Canadian kids practice hockey. So we need to be creative and smarter in making opportunities to better myself so that I can be more competitive when I head back over to Spain in September."
Finn has also been invited to participate in the Vintage Road Racing Association's 50th Anniversary of the 1967 Canadian Grand Prix event being held at Canadian Tire Motorsport Park mid August. "It's awesome to be invited to participate at the anniversary event. Originally I was asked to compete in a few of the races but current rules will not allow me to race because I am too young to race big tracks in Canada. So the plan is for me to do parade laps with some of the Grand Prix legends. I am really excited to meet and ride with these guys! It's going to be a great weekend!"
Jonathan Finn competes with support from Canadian Tire – Cobourg, Arai Helmet Americas, Bickle Racing, Impact Safe-T Armor, VnM Sport, Sidi Sport, and SPY.