Jonathan Finn Looks Forward to Jerez To Finish Season on a Positive Note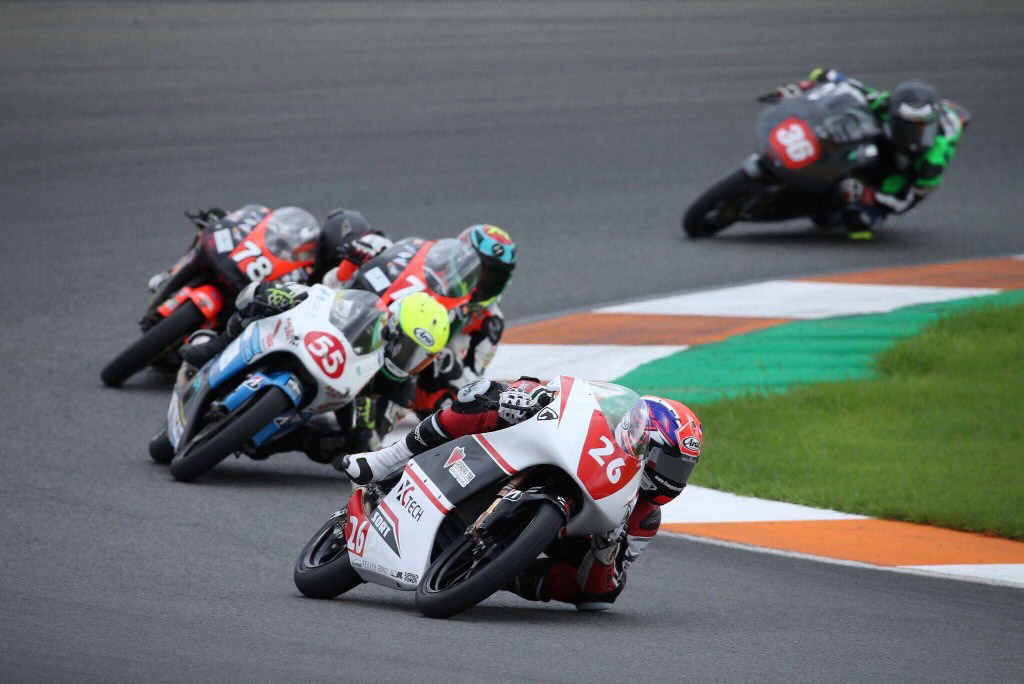 Canadian Jonathan Finn's PreMoto3 weekend at the 4.0 km long, 14 corner Circuit Ricardo Tormo in Valencia did not result in the expected outcome after a hard charge through the field this past Sunday.
Rain would greet the riders for the start of Saturday's qualifying sessions. Jonathan was first out on track and was eager to recover from the previous days performance and set good pace. Unfortunately, two laps into the first qualifying session he would mistakenly touch some of the painted track surface and would low-side. Remounting his machine quickly he attempted to rejoin the session but unfortunately the bike was damaged, and he needed to retire to allow the team to make necessary repairs for the second and final qualifying session later that afternoon.
"I'm extremely disappointed with how today went. Everything felt good during the first qualifying session before I low-sided. I really wanted to make some progress to get some confidence for myself and my team." said Jonathan, who eventually qualified 24th out of the 26-rider field.
Race day started off on a positive note for Jonathan, during the morning warm up: "I felt really confident on the bike during morning warm-up and I was able to push and ended up 14th fastest during morning warm-up. That session really gave me the confidence I needed for the race."
Jonathan was able to get a good launch off the line and immediately began to push forward. By the end of the first lap he had made up 8 places and focused his sights on gaining more ground.
Jonathan continued to lower his sector times equivalent to those that were running in the top-10. Finding his rhythm, Finn continued to push hard. However, on lap seven Finn would high-side at 120 KPH ending his charge forward as well as his attempt at recovering from a season plagued with mechanical issues and DNFs. His highside resulted in injures to his left ankle and upper leg.
"I knew I had something for the race. I found a really good rhythm and concentrated on pushing forward and breaking into the top 10 where I know I should be." said Jonathan. Unfortunately, it seems we can't catch a break. This season really started out great and now we are trying to shake this bad luck. I really feel bad for the team, but Xavi and the guys are right behind me. We face these challenges together and my hope for Jerez is that we can celebrate some success together."
With September being Muscular Dystrophy Awareness Month, Jonathan is proud to announce his participation in the Laps 4 MD fundraising initiative to help make a difference in the lives of over 50,000 Canadians affected by neuromuscular disorders.
Laps 4 MD provides racers and teams the unique opportunity of donating $1 from every lap they lead – in an effort to improve the quality of life of those living with Muscular Dystrophy. Funds raised through LAPS4MD help cover the costs of medical equipment such as wheelchairs & other mobility aids that make the lives of those affected so much easier. Funds also support research into finding treatments and hopefully one day a cure for all forms of this muscle-wasting disorder known as Muscular Dystrophy. For more information please visit laps4md.com
Additionally, Jonathan aims to help establish the Laps 4 MD brand in Spain by placing a Laps 4 MD decal on his race-bike and by finding ways to help those affected with Muscular Dystrophy in the country he currently competes in.
Jonathan travels to Circuito de Jerez this coming weekend for testing and to prepare for the final round of the RFME Campeonato de España Cetelem de Velocidad Championship and to prepare for the Red Bull MotoGP Rookies Cup tryout that takes place in southern Spain in two weeks time.
The RFME Campeonato de España Cetelem de Velocidad Championship continues to its final round at Circuito de Jerez September 18-21.
Jonathan is thankful for the support from Canadian Tire – Cobourg, Arai Helmet Americas, Bickle Racing, Human 2.0, Impact Safe-T Armor, Marsquest, BigB Racing, VNM Sport, Moto World, RST-Moto, Infinet Motorsports and Vroom Media Ltd.