Jonathan rebounds from challenging weekend at Navarra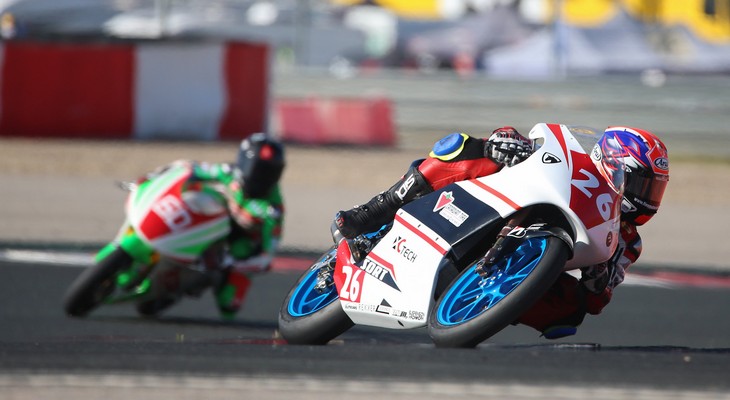 Canadian Jonathan Finn's PreMoto3 weekend at Circuito de Navarra tested his fortitude to find the confidence that he needed in his bike. A tenth-place finish was his reward for overcoming a variety of set backs this past weekend.
Finn picked up right where the previous weekend's testing finished during Thursday's Free Practice Sessions with laps times improving each time he took to the 3.9 km long Circuit de Navarra. Something changed during Friday's Free Practice Sessions and Finn struggled to maintain the pace he established during the previous day's sessions. He was able to improve slightly by the final session and set a personal best time which was the sole silver lining for an otherwise tough day.
"For whatever reason I just didn't have any confidence in the bike." said the 14-year-old Canadian RFME PreMoto3 Championship rider. "I pushed hard to improve but I wasn't getting the results. My lap times were not coming down and It was affecting me mentally. Its these types of days that I need to get through to improve and to develop as rider both mentally and physically."
Saturday's first of the two qualifying sessions started with a mechanical issue that ate into precious track time. He was able to improve during second qualifying session and set another Personal Best time, but it would place him outside the top-tan forcing him to start 12th on the grid.
"Fourth row is not where I want to be starting, but I was really able to loosen up more on the bike and find a good rhythm in the morning warm up." said Finn
Finn still struggled with the overall pace throughout the race but fought hard for positions just inside the top-ten. He was able to rebound from a challenging weekend with tight battle right to the line earning him a 10th place finish, just shy of ninth place by 4/10th of a second.
"I knew that I didn't want to get caught up in any incidents going into the first turn, so I needed to get a good launch off the line and push forward as much as I could." said Finn "I must look and the positives, personally, I struggled for whatever reason but we made gradual progress throughout the weekend and I learned more about myself as a rider."
Finn will be residing in Valencia Spain to concentrate on his training and to prepare for the remainder of the season.
The RFME Campeonato de España Cetelem de Velocidad Championship travels to Motorland Aragon Circuito July 12-15. Motorland Aragon Circuit is located 250km west of Barcelona.
Finn is thankful for the support from Canadian Tire – Cobourg, Arai Helmet Americas, Bickle Racing, Human 2.0, Impact Safe-T Armor, Marsquest, BigB Racing, VNM Sport, Moto World, RST-Moto, Infinet Motorsports and Vroom Media Ltd.