Challenging weekend for Jonathan in Catalunya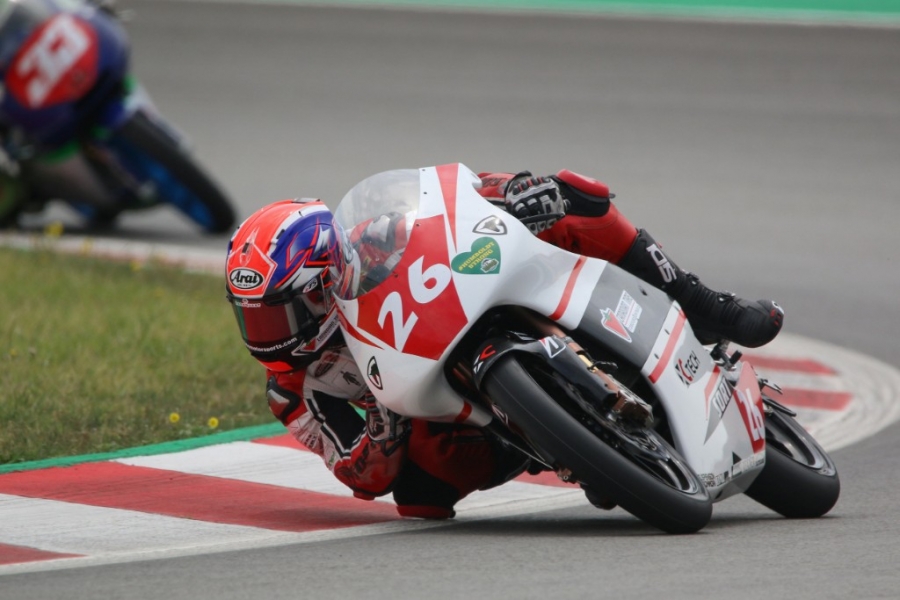 Persevering in the face of adversity was a recurring theme this past weekend for the 14-year-old Canadian RFME PreMoto3 Championship rider Jonathan Finn, who finished 16th in Sunday's race.
Leading up to Saturday's qualifying session Finn picked up right where the previous weekend testing finished in Thursday's free practice sessions. Finn got limited seat time in Friday's free practice sessions due to early morning thunderstorms and periodic light rain resulting in a wet track conditions up until the last free practice session. Pushing hard, Finn was able to continue to lower his lap times and was confident with the bike's set up and his pace.
Prior to Saturday's Qualifying Sessions an early morning thunderstorm once again saturated the Circuit de Barcelona-Catalunya track.
The XCtech team wanted Finn take advantage of the wet conditions and saw Finn hold P1 for the first half of the session.
"I was the first rider out of the pits when the track went green. The track was soaked but there was no rain falling. They wanted me to get some laps in to shake down the bike as well as try and set a fast time in the wet, knowing that not many riders would go out in these conditions. "
During the second session, Finn had to contend with a new challenge; chatter on fresh tires. The setup seemed to work best with tires that had about 5-6 laps on them, posing the question of whether to keep the setup and have Finn deal with the chatter for the opening laps and wait for the tires to work-in, allowing Jonathan to push hard for the last half of the race. Finn would eventually qualify 12th on the grid for the first race of the doubleheader weekend.
Finn was able to get a good start and move forward quickly finding himself in a four-way battle for 9th place. As exciting as this multi-rider battle within the top ten was, it allowed the lead group to break away leaving little opportunity for Finn catch up and join the fray at the front. Finn would cross the start-finish line in 11th Place.
Racing is all about pushing limits; physically and technologically. An unexpected limit was reveled during the post-race tech inspection, which all bikes must undergo. Finn's bike along with two other riders' bikes were deemed to be over the maximum horsepower limit resulting in disqualification. Finn's bike was dyno'd at +0.2 horsepower over the maximum limit.
"When a race official came down to the garage telling me and a team representative to report to the Race Director's office I knew this wasn't going to be good." Said Finn. "Team owner Xavi Jimenez and I were shocked to find out that my bike exceeded the power limits."
The XCtech team exhausted all avenues to appeal the decision, however the decision was not overturned.
"I was disappointed for Jonathan and the entire team. We work hard and spent hours tuning Jonathan's bike on our own team's dyno with enough allowance that this should never have happened. This very disappointing for us." stated Xavi Jimenez, XCtech Team Owner.
Putting the previous day's events behind him, Finn set out to test changes the team had made to his Pre-Moto3 machine to prevent the possibility of another disqualification in the second race of the doubleheader weekend. Feeling confident with the changes, Finn set the 8th fastest time during morning warm-up.
As an added measure, the team had the #26 Team XCtech Canadian Tire – Cobourg Pre-Moto3 machine tested on the dyno immediately following the morning warmup session which it passed with no issues.
Finn knew he needed to get a good launch off the line and push forward immediately so that he wouldn't get caught up in another mid-pack battle. Unfortunately, that was not meant to be. Finn didn't get the start he hoped for and once again fought hard to escape, a mid-pack fight for 10th.
Finn's misfortune continued a few laps later when he tried to draft pass going into the first turn. "I was able to get utilize the draft and I wanted to slingshot my way to the front of the pack going into turn 1. I knew my sector 1 times were faster than the other riders in the group, so I wanted to be leading the group going into the first turn." Said Finn. "Under heavy braking I got really loose and I had to overshoot the corner and use the paved runoff.
The first-turn runoff at Circuit de Barcelona-Catalunya is paved but rubber speed bumps are difficult to navigate then you also must rejoin the circuit once past painted markings beside turn 2. Running wide cost him dearly, dropping Finn back to 16th and almost eight seconds behind the group he was previously battling within. Finn would go on to finish in 16th.
"It's hard not to be disappointed with the weekend overall. I had the pace to run further up the grid but with getting caught in battles for position in both races and the DQ in the first race was a very tough weekend for me and the team." Said Finn.
Team owner Xavi Jimenez went on to say; "I know Jonathan is disappointed. He wants to be up front and he will be. Even Rossi has a bad race every once and a while. Jonathan is an excellent and mature rider and I know he will arrive at Circuito de Navarra in June focused ready to battle."
Finn will be returning to Canada for a two-week break before returning to Spain in mid-June for testing with his XCtech team in preparation for Navarra
The RFME Campeonato de España Cetelem de Velocidad Championship travels to Circuito de Navarra June 21-24. Circuito de Navarra is located 350km north of Madrid near Pamplona.
Finn is thankful for the support from Canadian Tire – Cobourg, Arai Helmet Americas, Bickle Racing, Human 2.0, Impact Safe-T Armor, Marsquest, BigB Racing, VNM Sport, Infinet Motorsports and Vroom Media Ltd.